September 10, 2018 | WiSH Vineyards Blog | Susan Hayes
WiSH Vineyards Bottle Phrase Contest 2018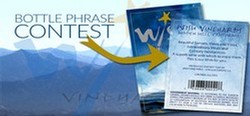 Each year we come up with a new phrase for our bottle. Please help us come up with a unique phrase for our 2016 Merlot and Cabernet Sauvignon Labels, and win a bottle of our 2015 Cabernet Sauvignon!
Contest Details: Each person who enters a phrase to be added to the back of our 2016 bottles will be entered to win one (1) bottle of our 2015 Cabernet Sauvignon. Selected phrases will be included on our 2016 Merlot and Cabernet Sauvignon bottles, and the contestants whose phrases are selected will also win one (1) bottle of our 2015 Cabernet Sauvignon!
How to Enter: You may enter the contest by submitting your bottle phrase idea using the Comment Form at the bottom of this page. Alternatively, you can enter the contet by emailing your bottle phrase to info@wishvineyards.com or by posting your bottle phrase as a comment to the Bottle Phrase Contest post on our Facebook Page here: https://www.facebook.com/wishvineyards/
Contest Dates: The contest begins September 10th, 2018, and the last day to enter is September 28,2018. On September 26, the WiSH team will announce our top four (4) favorite phrases to the WiSH Facebook page: https://www.facebook.com/wishvineyards/ for the Facebook community to choose the winning phrase! From October 1-3 WiSH will hold an online Facebook poll, and the phrase with the most votes wins! The winner will be announced and notified by October 5, 2018 & the prizes will be mailed to our winners.
Contest Eligibility: Contest paticipants must live in a state in which we are licensed to ship in order to enter and win the prize (To see states we sip to visit:http://www.wishvineyards.com/Wine-Shop/shipping) and be at least 21 years of age to enter.
Comments
colleen mcfadden
@ Sep 20, 2018 at 12:07 PM
Celebrate the moment, Embrace Simplicity Wishing you lots of Laughs, Smiles, and Love
Cindy Yost
@ Sep 21, 2018 at 11:18 AM
Warm breeze, blue sky. Glowing sunset, relaxing sigh. Our WiSH for all who enjoy wine
Theresa Moeggenberg
@ Sep 21, 2018 at 11:53 AM
So often we live our lives as chameleons trying to blend in with the ordinary rather than standout. Our WISH for you is to savor each delectable moment, making each memory extraordinary and each toast unforgettable with the perfect wine that says you are unique.
Ellen Vidal
@ Sep 21, 2018 at 1:48 PM
'When you want something, all the Universe conspires in helping you to achieve it.' Our WISH is for you to live your best life and let your authentic self SHINE!
Norma Walsh
@ Sep 21, 2018 at 3:54 PM
Perhaps we look to the night sky to see the twinkling stars which remind us of our past dreams. In a moment of clarity, a shooting star appears, and with a simple wish, our future is bright! Our WISH for you is to never give up, because if you believe in yourself, anything is possible!
sic bo number combination
@ Sep 21, 2018 at 5:30 PM
Reading trains in order to have a proactive and open mind. He ogles all of them intense fascination as if mesmerised by them. Worry will creep into your mind, leaving you open to second guessing your plans.
KM Koch
@ Sep 22, 2018 at 6:54 AM
May your troubles be few and your blessings be many. May the wine you share be with friends that care. Our WISH is for never ending occasions to celebrate life and loved ones.
Susan Sheridan
@ Sep 22, 2018 at 11:03 AM
What happens when the sommelier is a chef? Your wine wishes come true. Exceptional wines for sophisticated palates!
Julie Hendrix
@ Sep 22, 2018 at 9:24 PM
As another year draws near lets celebrate the good times my dear. My WISH is coming true I can taste it! Vinely, yours
Lisa Gale
@ Sep 22, 2018 at 9:51 PM
Peace Love Happiness Friendship Our wishes for all to enjoy are bottled inside Take time to enjoy!
EveVanna Hedrich
@ Sep 23, 2018 at 5:58 AM
Your Wishes come true, with this. Star of a wine
Sherri Jerzyk
@ Sep 23, 2018 at 4:58 PM
If you are sharing this bottle with someone you love, your Wish has already come true.
Jacquie Man
@ Sep 24, 2018 at 6:43 AM
Looking for that perfect wine? Your WISH has been granted.
Best For Shopping
@ Sep 28, 2018 at 11:41 PM
Didn't understand that it was so easy to get a space name! Much appreciated...
https://www.essayuniverse.net/writemyessay4me-org-review/

@ Oct 15, 2018 at 6:21 AM

Genuinely, educators are the most basic and respectable people in our world since they are the all inclusive community who are playing best and most significant character in the accomplishment of any individual and in the triumph of any country. You have fulfilled us to form best article about guidance of the world.

Commenting has been turned off.