September 1, 2021 | WiSH Vineyards Blog | Your Friends at WiSH Vineyards
September Update from WiSH Vineyards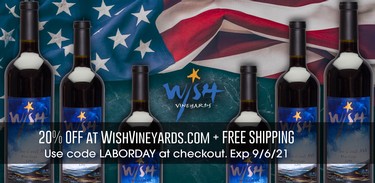 Malibu's warm afternoons are often followed by colder nights and cool mornings, which makes for a great environment for growing grapes. September is a gorgeous month to come visit Malibu and explore the Malibu Coast wine region. Why not plan a trip?
Meanwhile, be sure to follow our social media pages this month. We'll be sharing a video on how to make venison in a red wine chocolate sauce. Yum!
With lots of reunions and get togethers taking place, we'll share an idea for hosting your own paint and sip party. You and your friends can get together and follow a video on painting a vineyard scene while sipping your favorite WiSH wine!
We're continuing our WiSH Vineyards 2021 Get Out and Hike Challenge this month with a feature on Ice Box Canyon Trail near Las Vegas. Beat the heat and trek the cool, shady Ice Box Canyon Trail, or hike somewhere closer to home. Work off those pandemic pounds and then reward yourself with a glass of WiSH wine! In fact, our Labor Day sale starts today! Save on everything on the WiSH Vineyards website, including wine! Use promo code LABORDAY at checkout.
Cheers!
Comments
Commenting has been turned off.