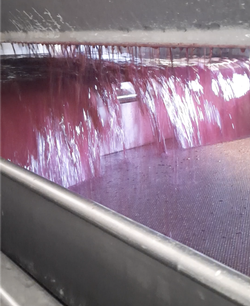 It's bottling time again and you know what that means! There will be another new, fine WiSH wine to sample soon. Here is a picture of this season's grapes being "pressed" in preparation for the delicious goodness to come.

This month on our social media pages, we'll be sharing some creative ideas from people who turned old wine barrels into incredible furniture and other useful things.

We'll feature a flower arrangement that incorporates edible grapes with instructions on how to duplicate it yourself.

We're continuing our WiSH Vineyards 2021 Get Out and Hike Challenge this month. It doesn't matter where you hike. The important thing is to get out and enjoy the fresh air and get some exercise. We'll feature a hike along the gorgeous Potomac River in Washington D.C.

Don't forget the Perseid Meteor Shower this month. It peaks on August 11-12. It will be a perfect time to lay out under the stars with a bottle of WiSH wine!

Cheers!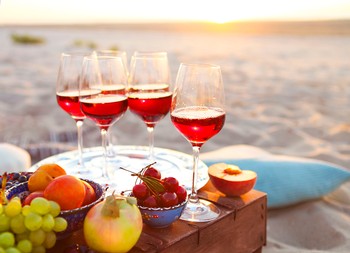 Looking out over our ever-scenic vineyard landscape is a beautiful and peaceful respite from the news of the human toll of the historic pandemic. Now that the pandemic is under better control in the U.S., we expect many of you will be traveling for family reunions and other joyous occasions in the coming year. WiSH Vineyards will be there with you in spirit, and we hope you will include WiSH wine as you toast to a brighter future.

Speaking of a bright future, July is national picnic month! On our social media pages this month, we'll tell you about a fun location for a picnic in Malibu. Spoiler alert… it involves goats!

We'll also feature a fun and practical set of magnetic wine glass charms. They're great for parties, or you might like to make a gift of them to a wine lover in your life. We'll tell you where you can find the set.

Our Wish Vineyards 2021 Get Out and Hike Challenge continues this month. We'll be spotlighting a gorgeous hike northwest of San Francisco in Point Reyes National Seashore.

Cheers!
The region around Malibu is known for its Mediterranean climate, characterized by warm, dry, and sunny summers and mild, wet winters. Cool breezes from the Pacific Ocean fuel our Mediterranean climate and keep temperatures at the vineyard normally ranging between 50 and 70 degrees. Grapevines love the Mediterranean climate.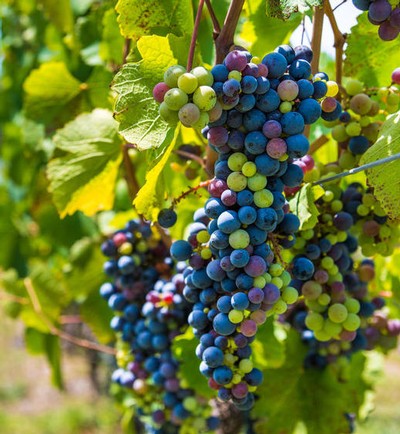 In the Wish Vineyard, June is typically a month where we see a big growth spurt on the vines. This is the period when the berries change color and begin to ripen, a process called veraison.

We invite you to follow our social media pages this month. We'll be spotlighting a leather wine journal from Italy that can make for a useful, fun, and original Father's Day gift. We'll point you to where you can get one. Our Wish Vineyards Get Out and Hike Challenge continues this month with a feature about a trail that offers up views of a beach, a glacier, a lake, and a waterfall - all in one .8 mile hike!

Watch for our Independence Day sale coming up at the end of this month. Meanwhile, get out and hike!

Cheers!