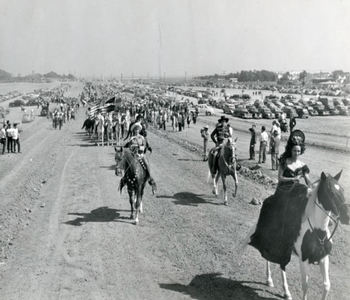 Malibu's coastal location and great climate make it an ideal location for outdoor events.

In 1947, the Malibu post of the American Legion sponsored a big parade to help fund the building of a new clubhouse. The Malibu Remuda, as it was called, celebrated Malibu's culture and heritage. The event featured over 900 horseback riders. The two-day event also included a "western bathing beauty" contest, a circus, aquatic races, and an air show. This photo shows the paraders traveling down what would shortly become the Pacific Coast Highway.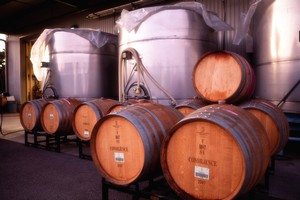 Here in the winery, our latest vintages of WiSH wines are aging at the precise temperature they need to bring out their flavors. The natural tannin preservative ingredient will continue to keep them flavorful for decades. Our WiSH wines vinify a little longer than most California wines... 24-28 months vs. 18 months for many other California vintners.

On our social media pages this month, we're introducing a Wish Vineyards Get Out and Hike Challenge to all our fans. We'll feature a new, exciting trail each month. It doesn't matter whether you hike our featured trail or hike a trail close to home. Just get out and hike! A glass of WiSH wine is a nice reward for conquering a trail. This month we'll also feature a deluxe wine essence kit that teaches you how to recognize the makings of wine. We'll point you to where you can purchase the kit.

Happy New Year!

Cheers!

*Malibu Remuda photo from the Malibu Historical Photograph Collection [digital resource], Pepperdine University Special Collections and University Archives

In Malibu, December is a month when you might spot a California gray whale making its migratory path along the coast. An adult gray whale can reach 46 feet in length and weigh up to 35 tons! Gray whales migrate up to 12,000 miles each year between the Arctic seas in the north and the lagoons of Mexico in the south.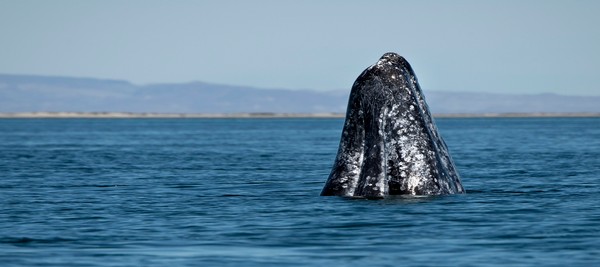 Here in the vineyard, we're preparing to transfer our latest vintage of wines into barrels for aging!

Speaking of barrels, check out our social media pages this month. We'll be featuring a clever wine barrelhead sign that can be personalized for your wine aficionado friends and family who are hard to buy for. We'll point you to where you can buy them. We'll issue a new WiSH Wine Road Trip Challenge to a place where you can spend Christmas in Old World German style right here in the U.S. We'll also be sharing 10 wine party game ideas you can plan for your next party. Remember to order WiSH wine ahead of time for the party! Our Christmas sale on wine later this month will be a great time to stock up. Look for the promo code on our Facebook, Instagram and Twitter pages.

A very Merry Christmas to all!

Cheers!
We completed this year's harvest. It's always a busy and exciting time at WiSH Vineyards.

If you've never visited Point Dume State Beach on the coast of Malibu, it's characterized by a long bluff that juts out into the Pacific Ocean and affords beautiful views of the Palos Verdes Peninsula and Santa Catalina Island. You might even catch sight of a whale. Point Dume is a popular spot for rock climbers and beachgoers.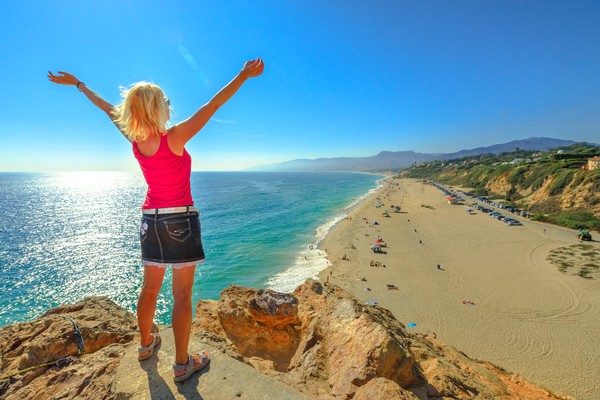 Check out our Wish Vineyards social media pages this month. We'll be featuring a video about wine coopers. If you've never heard that term, a wine cooper is a person who is specially trained to produce wine barrels. The trade has been around for centuries, and it's super interesting to see and learn about what goes into their training and what the wine barrel production process involves.

Happy Veteran's Day on November 11 to all of our national veteran heroes. Also, a very Happy Thanksgiving to everyone!

We have several fantastic sales occurring this month. Look for our Thanksgiving, Black Friday, and Cyber Monday Sale announcements with their special promo codes later this month on our Facebook, Twitter, and Instagram pages.

Cheers!