December 1, 2019 | WiSH Vineyards Blog | Your Friends at WiSH Vineyards
December Update from WiSH Vineyards
Los Angeles' largest holiday run/walk event occurs this month near Malibu. The Santa Monica-Venice Christmas 5K / 10K is legendary. The route includes a long stretch down the iconic Venice Boardwalk and finishes at the world famous Venice Pavilion. With all the treats that come with the holidays, it's a good time for some extra exercise.
After grape harvesting, at the beginning of fermentation, all of the destemmed grapes and juice are placed into a container. Yeast is added, and those microbes get to work - converting grape sugar into alcohol. At some point, near the completion of sugar conversion, all of the solid material (skins, seeds, etc) must be separated from the liquid, which is now wine, not juice. This is called pressing. Then, after allowing the finer solid material to settle out, our latest vintage of WiSH wine will be transferred to barrels for aging!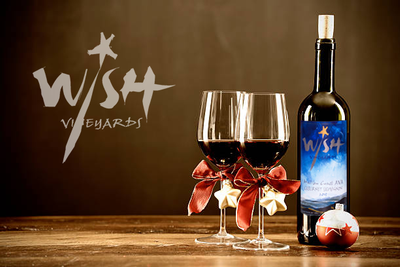 In other news, our Cyber Monday sale is on the horizon. It's our biggest sale of the year. Look for it on our Facebook, Twitter, and Instagram pages this month. You'll also find some Christmas specials on WiSH wine later in the month, and we're featuring a fantastic honey glazed ham recipe that uses red wine.
A very Merry Christmas to you from all of us at WiSH Vineyards.
Cheers!
Comments
Commenting has been turned off.