August 9, 2016 | Wine Recipes, WiSH Vineyards Blog | Susan Hayes
Cippolini Agrodolce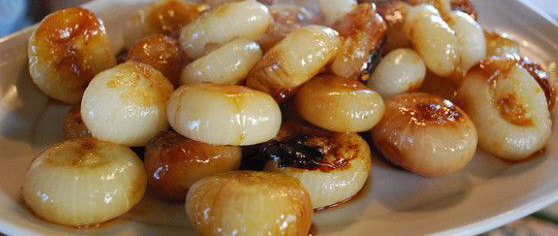 Cooking these slightly sharp-flavored onions agrodolce style turns them into a delicious side dish or try chopping them coarsely and tossing with mixed salad greens!
Ingredients:
1 # Cippolini onions-peeled
2 T Olive oil
1 T Sugar
6 e whole cloves
2 e bay leaves
½ c golden raisins
½ c water
½ c La Saba or red wine vinegar
1 c red wine
-Sauté onions in olive oil, sugar and S&P until lightly browned
-Place cloves and bay leaves in cheesecloth-tie together to make sachet.
-Add sachet, raisins and water and stir. Add LaSaba and red wine.
-Simmer on low for about 30 minutes until reduced—stirring occasionally.
-Remove sachet and adjust seasonings (S&P, sugar)
-Remove onions and raisins to bowl and keep warm.
-Serve with grilled roasted meats or poultry
Comments
Commenting has been turned off.