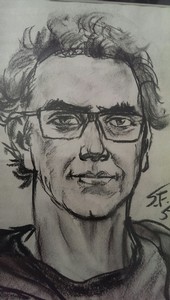 Kirby Anderson attended UC Davis receiving a Bachelor's Degree in Viticulture. After completing his studies he returned to his home town of Gilroy, CA where he made wine for a small local winery. But soon another passion called – the theater – and he left the wine world and moved to San Francisco where he studied acting at the acclaimed ACT Theater. Kirby later moved to Los Angeles to pursue a career in film making and worked with a successful producer on two feature films.
Now married and wanting to start a family, a call back to his roots beckoned Kirby to pursue a life in a more rural environment than the concrete and asphalt word of Los Angeles. As luck would have it, Buena Vista in Carneros was in need of an assistant winemaker to run the Sauvignon blanc harvest which took place in Lake County. They hired him almost on the spot. He lived out of a motel and saw his wife only occasionally, but he knew he had made the right decision in returning to vineyards and wine.
When Kirby first left Los Angeles to work for Buena Vista he rented a farmhouse in Napa Valley and commuted to the Sonoma portion of Carneros where the Buena Vista winery was located. He wanted to return to the wine region north of San Francisco, particularly Sonoma County. He landed a job as assistant winemaker within the Jess Jackson organization, at the La Crema facility in the Russian River Valley. Only eight months into the job came a call from a recruiter. A well-known winery in Santa Barbara County, Gainey Vineyards, was looking for a winemaker. The Gaineys offered Kirby the job and he accepted. While at Gainey, Kirby launched the new luxury brand, Evans Ranch, designed and oversaw construction of a new gravity-flow winery and, researched and planted Gainey's new high-density Home Ranch Cabernet Sauvignon vineyard. But after 10 years, a desire for something new took hold and Kirby decided to launch his own consulting company in 2008, and Gainey was his first client. He continued to grow his clientele in the San Ynez/Malibu Coast wine country and has taken on the role as wine maker for WiSH Vineyards.