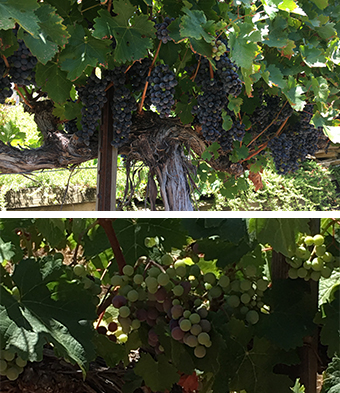 Well, it looks as though things are progressing VERY quickly in the vineyard. This warm weather (yesterday was 100°F+) is really pushing the maturity. As you can see color is good and the seeds are browning and becoming crunchy. I think we'll be harvesting at the end of the month.
The flavors are very good. Round but not much acid, which will be checked with samples early next week. The skins aren't releasing color yet, although they should very soon.
Our plans are to do the first sugar reading early this coming week.
- Craig H. Winn II, WiSH Vineyards Director of Vineyard Operations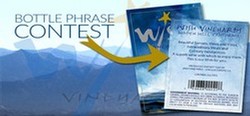 Each year we come up with a new phrase for our bottle. Last year, we hosted a contest to come up with our 2014 bottle phrase, and it was a huge success! Please help us come up with some unique phrases for our 2015 bottles!
Contest Details: Each person who enters a phrase to be added to the back of our 2015 vintage bottles will be entered to win one (1) bottle of our unreleased 2014 Meritage wine. Selected phrases will be included on our 2015 Merlot and Cabernet Sauvignon bottles, and the contestants whose phrases are selected will also win one (1) bottle of our unreleased 2014 Meritage.
How to Enter: You may enter the contest by submitting your bottle phrase idea using the Comment Form at the bottom of this page. Alternatively, you can enter the contet by emailing your bottle phrase to info@wishvineyards.com or by posting your bottle phrase as a comment to the Bottle Phrase Contest post on our Facebook Page here: https://www.facebook.com/wishvineyards/
Contest Dates: The contest begins June 20th, 2017, and the last day to enter is July 4th, 2017. The winner will be chosen and notified by July 6th, 2017 & the prizes will be mailed to our winners.
Contest Eligibility: Contest paticipants must live in a state in which we are licensed to ship (Alaska, California, Colorado, Maryland, Nevada, New Mexico, Ohio, Texas, Virginia, Washington DC) and be at least 21 years of age to enter.